We love to explore contrasts here at Hudson Valley Lighting. The tension between smooth and hammered metal textures on a backplate in our Burbank. The futurity of a starburst shape in an old-fashioned lantern shape in our Glendale. Hard angles and gracious curves in the same piece throughout our collection. While our fixtures' design plays with these tensions in microcosm, the power of contrast pays big dividends when revealed on a larger scale. A great example is "farmhouse luxury," a term that seems like an oxymoron at first glance.
Farming is hard, unglamourous work. It involves long hours of physical labor, working the land, hands in the dirt, and with no promise of making enough money to live for one's efforts. Luxury is its opposite: an antidote to toil, the prestige of exclusivity, refinement for the senses.
Old farmhouses were simple dwellings for simple lives. Their rustic charms, from eyebrow windows to eaved second floor spaces with cathedral ceilings, to hewn beams, inspire us, connecting us to an older world and a life lived closer to nature. Now, they are highly desirable homes, made when things were built to last. They have a spirit of place, a patina of domesticity, that cannot be reproduced in a newly constructed dwelling.

"Farmhouse luxury" plays with this obvious contrast in its room design. So, for example, a room in an old farmhouse might be stripped down to its essential elements, given a fresh coat of white paint, and then decorated with modern furniture one would not usually associate with the setting. In the image below, this has been done by putting in turquoise jewel tone armchairs with yellow pop pillows and a mid-century style chair with metal frame arms by the fireplace. Note also how the beams themselves have been painted white. We love the attention to symmetry.


Brunello Cucinelli, founder and president of the Italian cashmere company of the same name, knows luxury. Running a company whose cashmere blazers retail for 3,000 dollars, he defines luxury in a few different ways:

"There's luxury, absolute luxury, aspirational luxury and accessible luxury. Luxury is a handcrafted good or a place that is beautiful, well-made, exclusive. It must be exclusive; otherwise it's not luxury. It's nearly always something beautiful, well-made, true, and also useful and fair. But what is this thing, 'accessible luxury'? The two words don't go together. Absolute luxury must be exclusive too."
There is sometimes a connotation with luxury that implies only that which is new. In Brunello Cucinelli's vision, there is an understanding that things are new only in duality with that which is old. He put forth a new idea—stripping cashmere from its rigid history by both dyeing it all the colors of the rainbow and designing items specifically for women (not just men, as was traditionally the case). Yet he situated the heart of his company in a 14th century hamlet, Solomeo, where its old farmhouse was converted into a company canteen. Workers from around the villa gather here for fresh homemade pasta and other meals for a long siesta. Cucinelli understands the allure and necessity of luxury. At the same time, he sees how it is inherently connected to a historically rooted way of doing things and a sense of place.




A picnic in beautiful, rustic Solomeo.
Luxury. It's there in the little lovely details that add so much to life, isn't it? Luxury is a feeling, a minor excess that gives off pleasure. Luxury can be something so small. It comes in doses. It's rarely the whole room, the whole life, the whole environment. It's this thing here and that thing there, and even intangible things, that are extraordinary, are fine, are elevated above quotidian events and objects. It's the high-thread count sheets, it's the personal stationery made of thick stock and with a creamy color and texture, it's the hand-forged cutlery and its pleasing heft in your hand.
When one thinks of a farmhouse—exposed stone and brick walls, wood smoothed with age that could tell you stories could it but speak, a few small repairs—it becomes clear it is ideal for accenting with the luxurious. Thinking about this, it is the farmhouse's very rusticity , its age, and its simplicity that make it the perfect base upon which to offset it with luxury.
In decorating such a space, there are several options. One can try to approximate the period a farmhouse comes from; one can juxtapose the age of the building with very modern or contemporary pieces; or one can complement the space gently by integrating objects with a vintage and industrial feel. This last one creates a sense of history that also feels current. Acrylics and cast metal add a dash of the unexpected. Meanwhile, an old bronze finish and functional switches and chains blend in with the feeling of history.
We love how, in this farmhouse kitchen in the Hudson Valley, restored by Jeff Wilkinson for he and his wife, they kept the prevailing flavor of the house's origin time but added an industrial touch with our Pelham pendants. According to a Country Living piece on it, "This handsome cook space on a farm in New York's Hudson Valley was once a horse stable. The oak built-in are made from a 15--year-old white oak tree that fell on the property, giving new meaning to locally made goods." They didn't go for glamour, but they added a subtle luxury by adding picture lights to accent their treasured dishes and heirloom duck decoys, and by choosing extraordinary pendants in the style they were seeking, which showcase fine finishes and nuanced details. By being "beautiful, well-made, and also useful," these lighting choices satisfy Brunello's requirements of luxury.
Farmhouse Dining Room by Beacon Architects & Building Designers Jeff Wilkinson, RA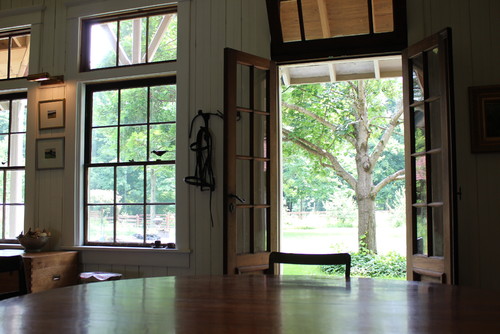 Farmhouse Dining Room by Beacon Architects & Building Designers Jeff Wilkinson, RA

Farmhouse Kitchen by Beacon Architects & Building Designers Jeff Wilkinson, RA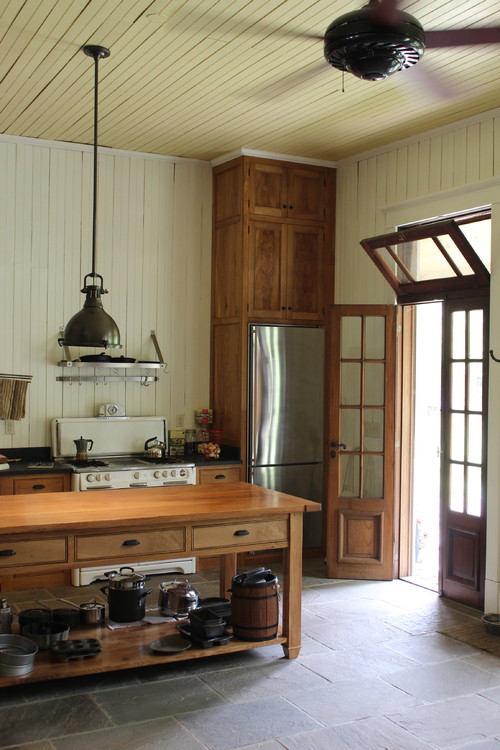 Farmhouse Kitchen by Beacon Architects & Building Designers Jeff Wilkinson, RA
"Farmhouse Luxury," as a term, seems to be taking in an increasingly Swedish modernist feeling. Immaculate white spaces integrating elements one might associate with a farmhouse: an exposed beam here, a woodstove there, an heirloom quilt draped over that piece of modernist furniture.




Or, it can be a dash of warm minimalism in an exposed-wood & stone dwelling with structural enhancements that make it modern. This radically renovated 19th-century farmhouse in the French Alps, available to rent for vacation, is an example of this type of luxury. It's devastatingly simple but exudes quality.


When one looks up the term online, European images dominate. This should hardly astonish, given the continent's long history and that it is nearly synonymous with luxury. Bigger stone farmhouses in France, Denmark, Sweden, and Italy that have a sense of richness about them. In Germany, there are at least three distinct styles of farmhouse. Googling the term and clicking "images" floods the screen with exclusively exterior shots. The term is nebulous, including newly constructed buildings that don't resemble any farmhouse you can think of. Let's say "farmhouse luxury" is an idea we chase, an apparition on the horizon. There are as many different kinds of farmhouses as there are cultures, as people everywhere had to farm for their subsistence. And luxury? Luxury is in the eye of the beholder; their standards and their norms define it.

Only one standard is sure. As Mark Twain writes in the beginning of Pudd'nhead Wilson, no country home is really luxurious or complete without a cat:
"Each of these pretty homes had a garden in front fenced with white palings and opulently stocked with hollyhocks, marigolds, touch-me-nots, prince's-feathers, and other old-fashioned flowers; while on the windowsills of the houses stood wooden boxes containing moss rose plants and terra-cotta pots in which grew a breed of geranium whose spread of intensely red blossoms accented the prevailing pink tint of the rose-clad house-front like an explosion of flame. When there was room on the ledge outside of the pots and boxes for a cat, the cat was there—in sunny weather—stretched at full length, asleep and blissful, with her furry belly to the sun and a paw curved over her nose. Then that house was complete, and its contentment and peace were made manifest to the world by this symbol, whose testimony is infallible. A home without a cat—and a well-fed, well-petted, and properly revered cat—may be a perfect home, perhaps, but how can it prove title?"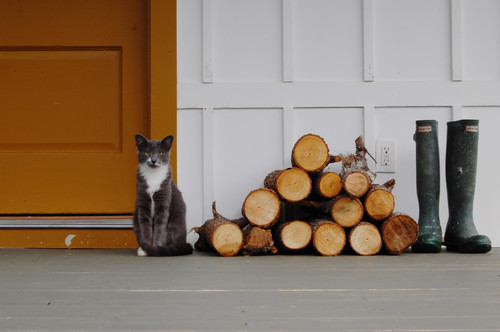 Farmhouse Spaces by Brooklyn Photographers Corynne Pless