"Whatever the kitchen is, that's your life with your family." –Peter Salerno, kitchen and bathroom designer.

If the kitchen is the center of the home, the island is the center of the kitchen. More and more, the island has become the focal point of the contemporary kitchen. It provides the perfect space to chop vegetables, mince garlic, crush lemons, roll out pie crusts, and toss salads. With stools, it has proved a place for company or family members to chill out with you or help you while you cook. For some, it is just a great central slab, with the added bonus of drawers and cabinets for increased storage of necessary items. For others, it incorporates a sink and/or range of its own.
With so many practical demands, from sinks to stoves to cupboards, the kitchen can be difficult to nail down to a certain style. The rise of the island has introduced a great place to set the tone for design. The choice of pendant or island light you suspend over it declares so much of the style, only requiring other components to complement it. Most islands are amply accommodated by one to three pendants or an island light covering the same number, but a long enough one might need as many as four. These pendants both provide the illumination you need in preparing meals and the ambiance you desire in entertaining guests. They also make for a dramatic design choice.

There are a couple things to bear in mind in hanging pendants. For spacing, there should be 30 to 32 inches of space between the counter and the fixture's lowest-hanging point. Multiply the square footage of the countertop area by 2.5 to determine how many watts of incandescent light you will need. Don't worry if you only have one electrical box above your island. An island light gives you the look of multiple pendants with only one entry point.
You've probably heard us go on about the three layers of light if you've been reading our blog regularly. The kitchen demonstrates just how important this concept is, as ambient, task, and accent lighting work together to make a dynamic space. In the picture below, Darien pendants serve as task lighting, accent lights glow from underneath the cupboards, and recessed lighting in the ceiling provides the base ambient layer.




But the roles of each light fixture and installation are not always so rigid. The choice of lights over the island is part of a larger aesthetic strategy. They guide the eye and complement colors and materials used while working with the other lighting sources. For example, you can install LED-track lighting on a dimmer switch underneath wall-mounted cupboards, above the countertop. Environmentally sound, energetically long-lasting, and economically smart, an installation of LED lights will serve as accent light, creating a sense of harmony, as well as provide the light needed for detailed cleaning and food prep.




In kitchens with enough wall space, accent light can come from sconces. To add greater design unity, you can pair the pendant or island light over the island with sconces in the same family. Below, the Jasper island light is complemented by Jasper sconces beside the stove's hood.


At Hudson Valley Lighting, a few of our pendants feel a lot of the island love. Our Randolph, Pelham, and Haverhill families, straddling precision of lighting and design grace, hover in kitchens far and wide. It was especially flattering to see interior designer Ginny Padula use our Randolph pendant in her own kitchen lately:




Pelham brings diffusive task light to this island while also adding a crisp, cool sensibility to the understated design. With no recessed lighting, Pelham here doubles as ambient light.




Haverhill is a natural fit for kitchens emphasizing a white / light blue / soft gray color palette. Its maritime details also lend it to kitchens featuring a nautical inspirationm, such as this kitchen from Portland, Maine.




Design by Marcye Philbrook // Photography by Siri Blanchette / Blind Dog Photo Associates

That said, we love when we see unexpected pendants used above the island, such as when Robeson Design used our Esopus in this kitchen makeover:




Heidi Piron, designer and cabinetry specialist, has some thoughtful insights into island placement and kitchen design. She says you should choose a focal point first. What object or area is going to be the most interesting and commanding in the kitchen's design? The other choices should complement that and draw the eye toward it. For islands, she points out that it is better for them to face the stove than the sink. "People do not enjoy looking at dirty dishes when seated at the island," she says. There are many choices for a material for the island, from marble to granite to wood. The best choice reflects the primary uses of the island for that family and the overall design look. In this kitchen, the island is hewn of rift-cut oak with zinc corners while the countertops are made of soapstone, chosen for its casual feel. The result is gorgeous, as this photograph by Christian Garibaldi shows.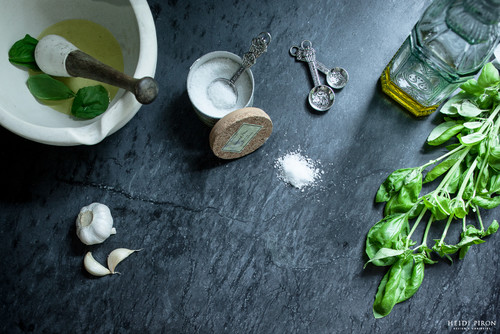 Transitional Kitchen by Summit Kitchen & Bath Designers Heidi Piron Design & Cabinetry

Head over to our Pinterest board for more island lighting inspiration or visit our Houzz kitchen ideabook. Do you have a favorite? What's something that you love about your kitchen? Is there something you want to change about it? We'd love to hear from you!